This is high-quality 75% keyboard kit from Glorious, which is a serious upgrade from the GMMK, and we are excited to be able to bring it to you here at loob.no.
This is a keyboard kit, which does not include switches or keycaps.
Gasket-mounted plate
The gasket mechanism provides effective mechanical damping, which leads to a more satisfying typing experience, both haptically and acoustically.
QMK and VIA-compatibility
The board ships with a default Glorious firmware, but it's easy to flash with your own QMK or VIA build.
Sound dampening
Removable EVA foam is provided for under the PCB and switch plate.
Programmable rotary encoder
Because who doesn't want a knob? Controls volume and media by default, but really it could control whatever you can imagination can conceive of.
Screw-in GOAT stabilizers included
The included transparent stabilizers are pre-lubed with G-Lube. 7u spacebars are supported. Other clip-in or screw-in Durock-compatible stabilizers will work just fine.
5-pin modular hot-swap PCB
The PCB is 'south-facing', fully modular, and hot-swappable. The shift key is 1.65u, and the bottom row is 1u.
Built-in USB hub
A USB-C port is provided for daisy-chaining to other devices.
Aluminium case
The high-profile case is individually machined and engraved from high quality aluiminium (6062), and weighs in at a solid 1.6kg. The typing angle is around 6 degrees, with no legs. Rubber feet are provided for the base. The width of the case is around 33cm.
Lighting
As well as elegant diffused side-lighting, the PCB includes full-colour (16.8m) per-key RGB lighting, and the default firmware provides multiple colour modes and animations. The caps lock indicator shares an LED bank with the side lights, so does not have its own indicator.
Cable
The kit comes complete with a detachable 2m black or white USB-C cable (depending on keyboard colour).
Accessories included
Included in the package is a switch puller, a cable, and some extra mounting gaskets.
Layout
ISO: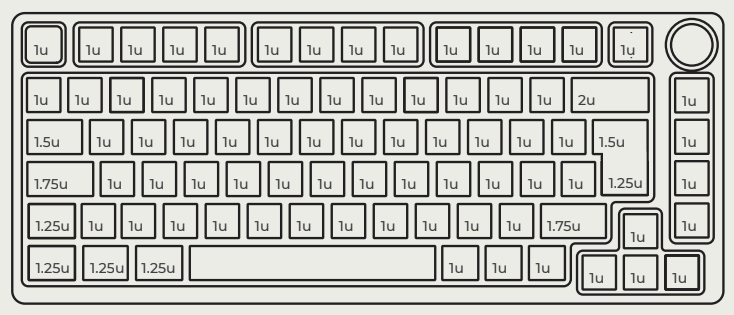 ANSI: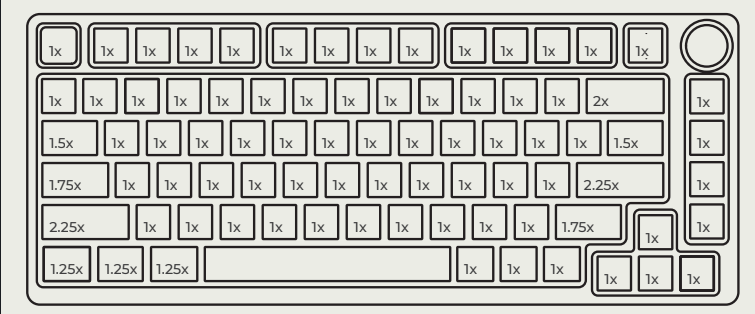 description
Click here to view safety data sheets
| | |
| --- | --- |
| Country of manufacture | China |